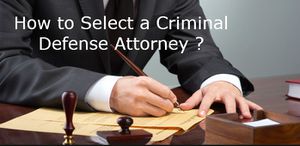 First, you need to understand the role of a defense attorney in a case you may be facing. These are attorneys that represent people charged with criminal conduct or those that have a lawsuit filed against them. It means that you need a criminal defense attorney who practices criminal defense. An experienced attorney who knows the prosecutor handling your case will certainly get concessions that other lawyers may not get. The attorney will also be in a good position to advise you especially if he has handled similar cases.
An experienced defense attorney will be in a good position to identify key pretrial issues and motions that can improve your situation or get the case dismissed.
Know the Defense Attorney You Need
You must choose between the federal and the state attorneys. If the law that you are accused of breaking is a state law, hiring an attorney who specializes in state law is recommended. Some of the state laws cases include robberies, breached contracts, traffic violation, family disputes among others. On the other hand, federal cases include cases that involve violation of the US constitution, cases in which the U.S is a party, copyright cases, bankruptcy cases and patent cases.
If the charges facing you revolve around a broken federal law, hiring a federal law defense attorney is necessary but not sufficient. The federal defense attorney you choose should be able to dedicate enough time to your case. It is important to remember that cases that involve federal law are complex thus, the federal defense attorney of your choice must have sufficient experience and the right credentials that can help them handle the case you may be facing.
It is important to note that a person who breaks federal law, you will be prosecuted by the Unites States Attorney's office. It means that the prosecutor that will be assigned to your case will have more time and resources to enable him to prosecute you. Thus, it implies that you need an experienced attorney since the prosecution will certainly be stronger than in a state case. Hiring a seasoned and respected attorney to represent you in this matter gives your case more chances of winning.
A specialized defense attorney
Hire a criminal defense attorney that concentrates on his practice. Most of the defense attorneys handle routine criminal defense cases, and a few of them concentrate on particular areas. If you are charged with a violent crime offense, hire one that specializes in violent crime. Similarly, if you are charged with rape, hire one whose specialty is rape. If it is not possible to get a lawyer who specializes in the crime you have been charged with, get a lawyer who is willing and ready to put in your case more time. Looking at the designations offered will help you see if the specialization is aligned with your case or not.
You should consider hiring a defense attorney that exhibits the required qualities. Remember the work of the attorney is to help you get a fair or a ruling. Consider good qualities such as excellent communication skills, a good track record, and experience. Depending on your case, it may be prudent to pick on an attorney with excellent negotiating skills.
To be informed of the latest articles, subscribe: